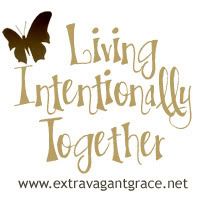 I'm joining with eLisa this week, over at Extravagant Grace, as we focus with her on Intentional Living...
One of my mom's topics when she spoke to women's groups was one I've been thinking about a lot lately...
OBEY GOD ON

THAT

ISSUE

!
I always know what THAT issue is in my life...
it's the one (or more) thing that trips us up in our walk with God...
the familiar area of struggle that keeps popping up in our life...
maybe it's a habit that was formed years ago...
or a behavior pattern that we know doesn't belong in our life...
maybe it's a grudge we are carrying against someone who has hurt us...
or the lack of discipline in our time in God's word and prayer...
or... too many trips to the pantry and refrigerator day after day...

or... a tongue that speaks too quickly and without thought...

maybe it's lack of faith, or 'giving in' to worry and fear...
or, filling our schedules too full ... 'doing a good thing is not always doing the best thing...
...and on and on and on...
We all have THAT issue... and we all need the healing touch of God to get past these issues, and to move forward into all that He means for our lives to be.
I'm 'preaching to the choir' here... as these are the very things He is speaking to me about, and it's always the SAME OLD things for most of us... remember, "it's the little foxes that spoil the vines"...
The good news: All that we really want our lives to be for God... He has already provided for us! His word is full of promises that cover every single need that we bring to Him.
BUT... obedience is required, one day at a time, but with genuine submission of our heart, mind and will.
This is a brand new year, and it can also be a brand new direction, as we choose to do it God's way... the choice is ours, the provision is His!"
"
The weapons we fight with are not the weapons of the world. On the contrary, they have divine power to demolish strongholds. We demolish arguments and every pretension that sets itself up against the knowledge of God, and we take captive every though to make it obedient to Christ
."(2Cor.10:4-5)
One more note, actually 2 ..."Whatever we keep back from God, the devil is sure to get!" (Martin Luther)
"There is a living God, He has spoken in the Bible, He means what He says and He will do what He has promised". (Hudson Taylor)
So that's my

long blog

for today.... I'll end with one more of her notes...
to herself, and maybe to me....

"I love a finished speaker
I really, truly do
I don't mean one who's polished
I just mean one who's THROUGH!"